Home » Blog » 4 Reasons LASIK Helps Your Allergy Symptoms
4 Reasons LASIK Helps Your Allergy Symptoms
Posted by: Georgia Eye Associates in LASIK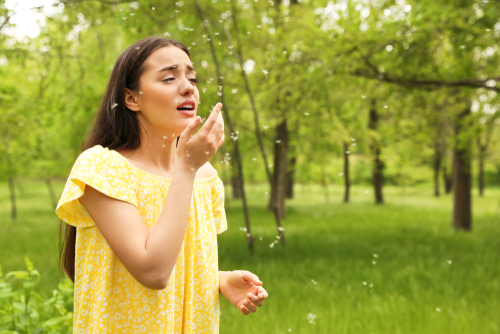 Do you have allergies? Are you tired of your eyes being too irritated to wear your contact lenses during allergy season?
Wearing contacts during the spring can be very uncomfortable if you have allergies. If you have spent your life struggling with itchy and dry eyes every allergy season, it may be time to consider alternatives to contact lenses.
One way to get rid of your contact lenses is by getting LASIK. Most people no longer need glasses or contacts after they undergo LASIK.
Keep reading to see how LASIK can improve your eyesight and reduce your allergy symptoms. Especially your eye-related allergy symptoms.
No Need to Put Your Fingers in Your Eyes for Contacts
If you wear contacts and have allergies, your eyes are constantly irritated by pollen. You have to touch your eyes to insert, remove, and adjust your lenses throughout the day. If you do not wash your hands and then touch your contacts, you are putting pollen directly in your eye.
Even if you wash your hands before touching your contacts, allergens can still get in your eyes. Pollen and other irritants floating around in the air can land on your contacts and in your eyes.
Remember that contact lenses and pollen are not friends. If you're someone who still hasn't gotten LASIK, wearing glasses is your best option during allergy season.
If you get LASIK, then you could eliminate the need to touch your eyes all the time and the need to wear glasses.
If your allergy symptoms are severe and you no longer want to wear glasses, talk to your eye doctor about LASIK. If you are a candidate for laser eye surgery, you could say goodbye to glasses and contacts forever.
Less Severe Dry Eye
Contact lenses can cause severe dry eyes. Dry eyes and allergies are a painful combination. If you have dry eyes year-round, then allergy season probably makes them even worse.
LASIK could make your year-round dry eye less severe by helping you get rid of your contacts. You'll feel twice the benefit in the spring.
Quick Recovery
If you have bad allergies and are a candidate for LASIK, the recovery process is pretty quick. Most patients can go back to normal activities within a few days.
You could enjoy this spring and this fall with fewer allergies and no visual symptoms. Full recovery takes about 3-6 months post-procedure, depending on the patient.
Better Quality of Life
After getting LASIK, you will have a better quality of life during allergy season. Not having allergens trapped against your eyes will make a big difference for you.
Imagine clear vision and no allergens trapped in your eyes. You can have this as early as this spring and fall. And then for every allergy season for the rest of your life.
Are you interested in learning if you are a good candidate for LASIK? Schedule a consultation at Georgia Eye Associates in Atlanta, GA, and get ready to have visual freedom!
Tags:
LASIK
,
LASIK Buckhead
,
LASIK Eye Surgery Atlanta
---