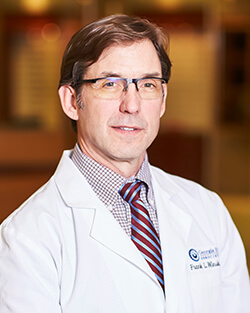 Optometrist Atlanta, GA
Dr. Frank Winski joined Georgia Eye Associates in 1998. He has extensive experience meeting the needs of families. His practice includes evaluating school aged children who may need glasses all the way up to the needs of an older adult that is developing cataracts or macular degeneration. He enjoys fitting people of all ages for contact lenses and has developed particular expertise in hard-to-fit conditions such as keratoconus, corneal transplants, and presbyopia. For those patients hoping to go without glasses or contacts, Dr. Winski can determine if you are a good candidate for LASIK or other refractive procedures.
After obtaining his doctorate of optometry at the New England College of Optometry he finished an ocular disease residency at Omni Eye Services of Atlanta. Optometric residencies are 13-month post graduate training programs that are completed by less than 10% of practicing optometrists. This residency gave him the training necessary to manage ocular diseases such as glaucoma, diabetic retinopathy, macular degeneration, diseases of the cornea, and post operative care of surgical patients. He is board certified by the American Board of Optometry. As an Atlanta optometrist, Dr. Winski is proud to help the people in his community improve their vision.
Dr. Winski is originally from Rochester, NY, but has called Atlanta home since 1989. He is a member of the American Optometric Association and the Georgia Optometric Association. He is a past president of the Greater Atlanta Optometric Association and has served as a trustee on the board of the Georgia Optometric Association. He enjoys golfing and spending time outdoors with his three sons and wife Julie.