Brigette B. Rabitsch, O.D.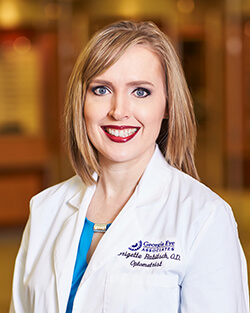 Optometrist Atlanta, GA
Dr. Rabitsch provides care in the areas of ocular disease, contact lenses, and family practice optometry. In June, 2011, Dr. Rabitsch was among the first 500 doctors in the country to complete the rigorous process of board certification by the American Board of Optometry. As a Diplomate of the ABO, Dr. Rabitsch is committed to excellence and lifelong learning in the field of optometry. In 2006, Dr. Rabitsch received the distinction of Young Optometrist of the Year by her colleagues in the over 600-member Georgia Optometric Association. From 2004-2006, Dr. Rabitsch served as the president of the 9th district of the Georgia Optometric Association.
Currently, Dr. Rabitsch mentors as part of the University of Alabama at Birmingham School of Optometry's Doctorate Student Mentor program. While at UAB, Dr. Rabitsch was an active member of the Beta Sigma Kappa academic honor society and the Fellowship of Christian Optometrists. As an optometry student, she served as part of a medical missions team to Belize. Most recently, Dr. Rabitsch participated in a medical missions trip to Haiti, along with a team of students and colleagues from UAB. Locally, Dr. Rabitsch serves at the Lions Lighthouse Clinic and the Good Samaritan Clinic to provide eye care for those in need.
Dr. Rabitsch graduated Phi Beta Kappa and magna cum laude from the University of Georgia Honors Program, majoring in microbiology and participating in an undergraduate experimental research program. She completed her doctorate at the University of Alabama at Birmingham School of Optometry.
Dr. Rabitsch resides in Atlanta with her husband and their two children. They enjoy traveling, photography and serving with the hospitality team of their church.