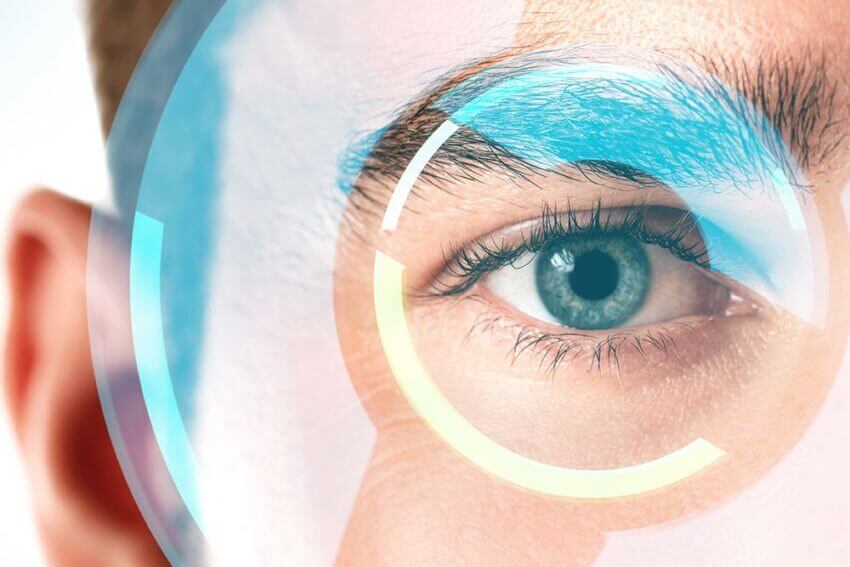 LASIK in Atlanta
Imagine what it would be like to wake up with crisp, clear vision. No glasses to fumble with, no contacts to put in. This is what life is like after LASIK surgery — the most popular form of laser vision correction in the world.
The LASIK experts at Georgia Eye Associates help patients achieve 20/20 vision! We offer bladeless LASIK at our locations in Braselton, Buckhead, Lawrenceville, and Tucker.
Still on the fence about laser vision correction procedures? Keep reading to discover more about LASIK!
What is LASIK?
LASIK (laser-assisted in situ keratomileusis) is a refractive surgery. It corrects nearsightedness, farsightedness, and astigmatism. LASIK reduces or eliminates the need for glasses and contacts. This is done using laser technology to reshape the cornea and improve vision.
LASIK enables the physician to measure and correct unique imperfections in each individual's vision. Many of these imperfections could never be measured before using standard methods for glasses and contact lenses. LASIK surgery is performed on one eye at a time and takes about 5-10 minutes per eye. Most patients have 20/20 vision after LASIK.
Many patients even say that their vision has visibly improved just hours after! Recovery from LASIK is quick, allowing you to return to many of your normal activities in as little as 24 hours.
How Does LASIK Work?
During bladeless LASIK, your LASIK surgeon will use two lasers. The first is a femtosecond laser. The femtosecond laser creates a micro-thin flap on the cornea. Then, an excimer laser reshapes the underlying corneal tissue. LASIK is performed under local anesthesia in the office setting. Patients typically report little to no discomfort during the procedure. Cases typically last less than 20 minutes, and most patients return to normal activities the following day.
Reshaping the cornea allows it to focus light properly onto the retina. By correcting refractive errors, patients are able to see clearly!
---
Learn More About LASIK Options
---
---
Is LASIK Painful?
Thanks to numbing anesthetic eye drops, most patients do not feel any pain during LASIK. There may be some uncomfortable pressure around the eye during the procedure. This does not result in pain.
After LASIK, it is normal for eyes to be sensitive. Your eyes may even feel irritated, but this is only temporary.
Who is a Candidate for LASIK?
Although LASIK surgery can help a wide array of patients, it is not ideal for everyone. In order for the surgery to be successful, the patient must be a good candidate.
To be a good LASIK candidate, patients must meet the following:
They must be at least 18 years old and have a healthy medical history.
They cannot have severe medical conditions like dry eye, diabetes, glaucoma, or cataracts
They must have a prescription that has remained the same for a year or more before LASIK
They must have thick enough corneas
Before ever having LASIK, you'll have a LASIK consultation at Georgia Eye Associates. During this consultation, we will examine your eyes thoroughly. We will also measure the thickness of your corneas. Although all factors for LASIK candidacy are important, corneal thickness is key. If your corneas are too thin, you cannot safely undergo LASIK.
This is because a small amount of corneal tissue is removed during flap creation. For patients with thin corneas, removing corneal tissue could lead to complications. If you are not a candidate for LASIK, you may qualify for a similar procedure called PRK!
Preparing for LASIK Surgery
Before LASIK surgery, patients must refrain from wearing contact lenses for 2 weeks. This allows the corneas to reshape to their natural position. The morning of LASIK, patients will need to scrub their eyelids to make sure they are clean. This means no makeup!
When you arrive at Georgia Eye Associates, you'll have paperwork to fill out. Once the paperwork is complete, you'll be offered a relaxing medication. We will then put numbing drops in both eyes. These ensure you won't feel any pain during LASIK! Though bladeless LASIK takes just minutes per eye, you won't leave immediately. It may take a few minutes to get used to lights and how your eyes interact with the world.
Since anesthetic eye drops are used, you aren't able to drive yourself home. All patients must arrange a ride to and from Georgia Eye Associates.
Recovering from LASIK Surgery
After LASIK, your vision may be blurry or irritated. This is temporary, but it may take a few days for your vision to clear up. When you get home, rest is key! This means laying down in a dark room with your eyes closed for several hours after LASIK. Even if you don't fall asleep, keeping your eyes closed helps you begin recovery on the right foot.
While LASIK recovery is fast, you should avoid some activities. Don't get water in your eyes for the first month while recovering, and cover your eyes while showering. Water can carry bacteria, which could cause infection in your vulnerable post-LASIK eyes. Refrain from wearing makeup for the first week, and throw away all old makeup. Makeup can carry bacteria, so eye makeup like eyeliner and mascara needs replacing.
If you play sports, avoid any contact activities that could result in getting hit in the head or eye. Any injuries to your face or eyes could harm your delicate flaps. You should be able to return to your everyday activities after the first month of recovery.
Ready to see Buckhead and the greater Atlanta areas without glasses or contacts? Contact Georgia Eye Associates to schedule a LASIK consultation at one ofour Buckhead, Atlanta, Braselton and Lawrenceville locations!
Custom LASIK Options
What is Wave Scan technology?
Wave Scan technology was originally developed for use in high-powered telescopes to reduce distortions when viewing distant objects in space. This technology has now been applied to laser vision correction, measuring imperfections in the eye never before measured using standard methods for glasses and contact lenses. Wave Scan-based digital technology identifies and measures imperfections in an individual's eye 25 times more precisely than standard methods. Physicians use this information to treat individuals with Custom LASIK procedure.
Why is Wave Scan technology so important to the Custom LASIK procedure?
Until now, physicians were forced to practice one-size-fits-all vision. An off-the-shelf lens corrects an individual's vision fairly well, but it does not correct it precisely because it is not uniquely tailored to that person's fingerprint of vision. Now, with Wave Scan technology, we can custom tailor a correction for the unique characteristics of each individual's vision.
---
View Video
Common LASIK Questions
Feel free to call 770-995-5408 or email our LASIK Coordinator Beth Anneshensley.
---
Related Pages