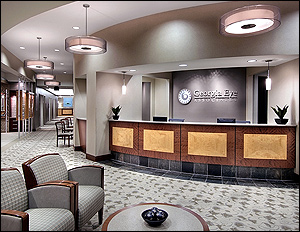 When choosing a healthcare provider, it's important to know who will be taking care of your needs. You want someone who's qualified, experienced and passionate about what they do. At Georgia Eye Associates our goal is to improve the quality of our patients' lives through better vision.
Dr. Donald Poland started providing eye care in the Lawrenceville community back in 1988, and he's been at it ever since. Along the way six more physicians joined the practice. This experienced team of optometrists and ophthalmologists, along with a rock star staff, specializes in laser refractive surgery, including LASIK, as well as no-stitch and laser cataract surgery. We also offer additional services, such as multifocal lens implants and cornea repair/transplants.
We have four convenient locations in Atlanta/Buckhead, Lawrenceville, Tucker, and Braselton to serve your medical and surgical eye care needs. As one of the Atlanta's premier laser vision correction and cataract surgery practices, we look forward to helping you create a new vision for your future, as well as an improved lifestyle. Call us today at 770-995-5408 or request an appointment to get started!
Hospital Affiliations
The physicians at Georgia Eye Associates are proud to be affiliated with two local hospital systems – Gwinnett Medical Center and Piedmont Hospital. Our ophthalmologists perform thousands of surgeries each year at these hospitals, which provide great clinical care and customer service to patients in the Greater Atlanta metro area.
Gwinnett Medical Center is a 553-bed, not-for-profit healthcare network that provides a wide array of high-quality services and facilities to Lawrenceville, Duluth, Hamilton Mill, Johns Creek and the metro Atlanta area. With more than 4,800 employees and 800 affiliated physicians, they have repeatedly received national recognition for clinical excellence, ranking in the top 5% in the nation for clinical quality.
Piedmont Hospital's Piedmont Clinic has been at the forefront of medical care since the 1990s, when their network of physicians opened its doors to the first patients. Located throughout the Greater Atlanta metro area, the Piedmont Clinic network is comprised of more than 1,100 physicians who are either independent practitioners or employed by Piedmont's Physician Enterprise, which includes Piedmont Heart Institute and Piedmont Medical Care Corporation. Piedmont Clinic is a network of physicians that champions a culture of clinical excellence, superior service, reliable safety and cost-effectiveness.
Supporting Our Community
At Georgia Eye Associates, we are committed to supporting the communities in which we work. We regularly attend health and wellness fairs for our local senior centers and city governments. In addition, we are active supporters of organizations that help vision impaired people to see more clearly.
Georgia Lions Lighthouse Foundation
We are proud to support the efforts of the Georgia Lions Lighthouse Foundation whose mission is to provide vision and hearing services through education, detection, prevention and treatment. We recently participated as a sponsor of their Night of Spectacles fundraising event, and together we raised nearly $100,000 for the programs that allow Georgians in need to live healthy and productive lives.
On their behalf, we gladly accept donations of eyeglasses of all types and in any condition. All prescription glasses are sent to people in need overseas. Reading glasses and non-prescription sunglasses are distributed in the U.S. to nursing homes and homeless shelters, as well as other locations. Even broken glasses are used in their annual fundraising event. If you have any old glasses you don't use anymore, please bring them along to your visit and help us put them to good use!
Sjogren's Syndrome Foundation
Georgia Eye Associates has been a proud sponsor of the Sjogren's Syndrome Foundation for the past several years. Sjogren's Syndrome is an autoimmune disease which affects the moisture producing glands in the body, often causing dry eyes, dry mouth, fatigue, and joint pain. In addition to providing a gift basket for the foundation's silent auction, we have donated funds to help provide support and education to those with this debilitating disease.
---
Related Pages