Benjamin R. Strauss, M.D.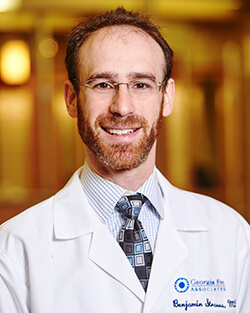 Ophthalmologist Atlanta, GA
Benjamin R. Strauss is a native of Roswell, Georgia. He earned his undergraduate degree in Molecular and Cellular Biology at Vanderbilt University, graduating summa cum laude before graduating from the Medical College of Georgia. Dr. Strauss completed his residency training at the University of Pittsburgh Medical Center before pursuing a fellowship (additional subspecialty training) in Cornea and External Diseases at Tufts University and the Ophthalmic Consultants of Boston.
As a result of this additional training, Dr. Strauss is trained to manage complex diseases of the cornea and ocular surface, both medically and surgically. He is capable of the latest Corneal procedures, including corneal cross-linking, and partial thickness cornea transplants, in addition to full-thickness cornea transplants, intraocular lens exchanges, and cataract surgery. He is also trained in Laser Vision Correction, including LASIK and PRK.
Dr. Strauss is board-certified by the American Board of Ophthalmology and is a member of the American Academy of Ophthalmology and the American Society of Cataract and Refractive Surgery. He is also passionate about teaching Ophthalmology! During his training, he enjoyed teaching medical students, his fellow trainees, and even the supervising doctors, as well as his patients. He would like to continue this work, teaching patients and other medical professionals about the importance of eye health."
Dr. Strauss sees patients in our Lawrenceville and Braselton offices. When he's not in the office, Dr. Strauss enjoys music, cycling, and spending time with his wife and children.