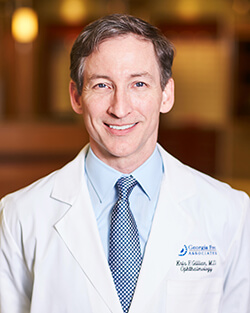 Ophthalmologist Atlanta, GA
Kris F. Gillian, M.D. is a native of Little Rock, Arkansas. He earned his BA from Emory University and was awarded an academic scholarship while graduating from the University of Arkansas with a degree in medicine. Dr. Gillian completed his medical internship at the University of Tennessee and his ophthalmology residency in Pittsburgh. During his residency, Dr. Gillian traveled to Samara, Russia to perform a surgical mission at the hospital of the late Dr. Svyatoslav Fyodorov, known as the "Father of Radial Keratotomy."
Dr. Gillian is a board-certified Atlanta ophthalmologist who has been practicing in the area since 2001. He is an active member of the American Academy of Ophthalmology, The American Society of Cataract and Refractive Surgery and the Georgia Society of Ophthalmology. He is also a proud member of the Piedmont Clinic.
As an Atlanta eye doctor, Dr. Gillian has performed thousands of various surgical procedures in his career. He specializes in premium implant cataract surgery, LASIK, diabetes and glaucoma treatment, macular degeneration management, eyelid surgery, and pterygium removal.
He lives in Atlanta with his wife and children. In his spare time, he enjoys travel, scuba, golf, music, and personal fitness.