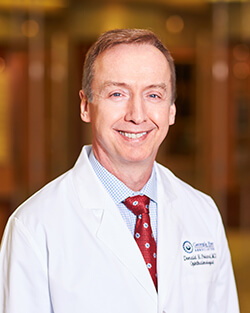 Ophthalmologist Atlanta, GA
A native of Kingston, Tennessee, Dr. Poland graduated from medical school from the University of Tennessee, Memphis in 1982. He performed his ophthalmology residency at Erlanger Medical Center in Chattanooga. After completion of his residency, Dr. Poland was awarded a prestigious fellowship in corneal disorders and refractive surgery at the Louisiana State University Eye Center, New Orleans— recognized as a world leader in patient care, medical education, and in research to preserve and restore vision.
Dr. Poland specializes in LASIK, premium implant cataract surgery, glaucoma, macular degeneration, and diabetic eye disease. Dr. Poland has performed over 15,000 surgical procedures since opening his private practice in 1988.
Dr. Poland is certified by the American Board of Ophthalmology and is a member of many local, state and national medical societies, including the Gwinnett County Medical Society, the Medical Association of Georgia and the American Academy of Ophthalmology. He is also a proud member of the Piedmont Clinic.