What are Cataracts?
A cataract is a cloudy lens of the eye. The lens of the eye focuses light. It is located behind the iris, or the round colored portion of the eye. It is disc-shaped and looks like a small, flat, clear marble. When the eye ages, the proteins that make up the lens change causing the lens to become cloudy. When this occurs, the cloudy lens becomes what is called a cataract. As we age, everyone eventually develops a cataract in each eye. Some people may not have much trouble with their sight, others may have debilitating vision loss. Most patients complain that their vision has become cloudy, fuzzy, or that colors appear dimmer. Many will complain of halos around lights. Fortunately, with intraocular lens implantation can reverse the visual problems. Click on any of the videos below to learn more about cataracts and how they are treated.
How do cataracts affect your vision over time? Click here to find out: www.geteyes mart.org/eyesmart/diseases/cataracts-simulator.cfm
Get a $250 Discount per Eye on Premium Lens Cataract Surgery!  Click here to learn more!
Look around and tell us what you see. Is your vision cloudy? Do colors seem less vivid? If so, you may be suffering from cataracts. Don't worry, though…we can help! Take a look through our Cataract Center where you will find information about this eye condition and the treatment options available.
At Georgia Eye Associates, our expert ophthalmologists use state-of-the-art equipment and techniques to provide the best care and treatment for cataracts. Give us a call today to set up your consultation and get started on the path to clearer vision!
The Cataract Procedure
In a typical cataract procedure, IV sedation and topical anesthetic drops are used to completely relax the patient and ensure a painless operation. Initially, a tiny micro incision is made on the outside part of the cornea. From here, more anesthesia is placed in the eye. The lens is removed by sculpting it into parts using pulsating vibrations and suction from a special micro instrument known as a phacoemulsification hand piece. Once the lens is removed, a folded synthetic lens is placed into the same location as the old lens. This new lens gently unfolds into place on its own. At this point the procedure is complete and the patient is sent home with a taped shield over the operated eye, with instructions to be seen in the office the next day. No sutures or needles are required for this procedure, and most cases last less than 30 minutes. Antibiotic and anti-inflammatory eye drops are used for several weeks afterwards. Usually the patient can see noticeable improvement in their vision the next day.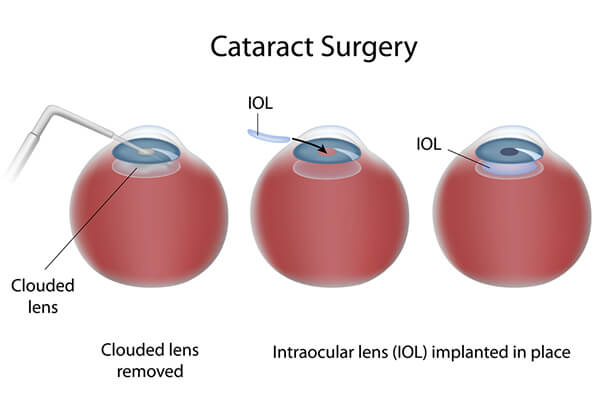 Cataract surgery is a quick and painless outpatient procedure that removes the cloudy lens and replaces it with a man-made synthetic lens, made of either acrylic or silicone. Approximately three million cataract surgeries are performed in the United States every year, making it the most common elective surgical procedure performed in this country. With more than a 97% success rate, it is also the most successful surgery.
Click on the "Playlist" tab of the video below to select the video for Dr. Poland or Dr. Gillian, and find out what you can expect from your cataract procedure.
Take Our Cataract Self Evaluation