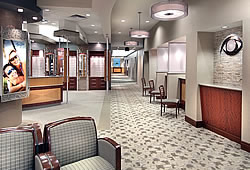 Get a $250 Discount per Eye on Premium Lens Cataract Surgery!  Click here to learn more!
Look around and tell us what you see. Is your vision cloudy? Do colors seem less vivid? If so, you may be suffering from cataracts. Don't worry, though…we can help! Take a look through our Cataract Center where you will find information about this eye condition and the treatment options available.
At Georgia Eye Associates, our expert ophthalmologists use state-of-the-art equipment and techniquest to provide the best care and treatment for cataracts. Give us a call today to set up your consultation and get started on the path to clearer vision!
Having cataract surgery with Dr. Poland or Dr. Gillian? Click on the video (top is Dr. Poland, bottom is Dr. Gillian) and learn what you can expect.