Cataracts can impact your ability to read, write, watch TV, drive, or recognize the faces of people you love. Once they have fully developed, cataracts affect your quality of life.
Looking for advice about cataracts in the Buckhead and greater Atlanta, Georgia areas? Georgia Eye Associates is here to help!
---
What are Cataracts?
A cataract is a medical condition where the lens of the eye becomes cloudy over time. This causes blurry vision that can't be corrected with glasses or contacts.
The lens of the eye focuses light. It is located behind the iris, or the round colored portion of the eye. It is disc-shaped and looks like a small, flat, clear marble. When the eye ages, the proteins that make up the lens change causing the lens to become cloudy. When this occurs, the cloudy lens becomes what is called a cataract. As we age, everyone eventually develops a cataract in each eye. Some people may not have much trouble with their sight, others may have debilitating vision loss. Many will complain of halos around lights.
Because cataracts develop over time, they are extremely common! In fact, cataracts may start developing as soon as the age of 40, though you may not realize it. Fortunately, with intraocular lens implantation can reverse the visual problems.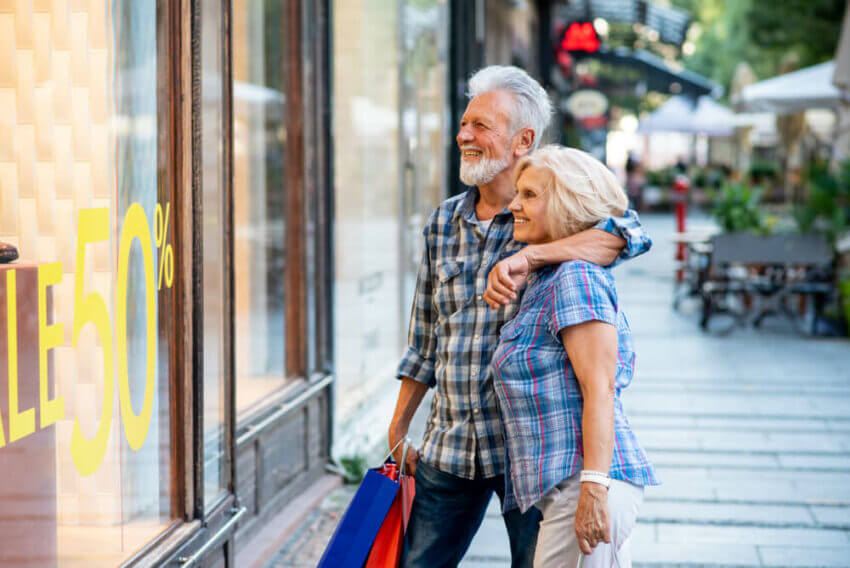 How do cataracts affect your vision over time? Click here to find out: www.geteyes mart.org/eyesmart/diseases/cataracts-simulator.cfm
Look around and tell us what you see. Is your vision cloudy? Do colors seem less vivid? If so, you may be suffering from cataracts. Don't worry, though…we can help! Take a look through our Cataract Center where you will find information about this eye condition and the treatment options available.
At Georgia Eye Associates, our expert ophthalmologists use state-of-the-art equipment and techniques to provide the best care and treatment for cataracts. Give us a call today to set up your consultation and get started on the path to clearer vision!
Click on any of the videos below to learn more about cataracts and how they are treated.
---
What Are The Symptoms of Cataracts?
The main symptom of cataracts is cloudy or blurry vision. Patients may also experience yellow or brown tinted vision. This is due to the cataract developing over the formerly clear lens.
Cataracts may also cause low night vision, glare, and double vision. Patients with cataracts will have frequent prescription changes as well. As a cataract ripens, more vision will be lost.
Cataract Symptom Checker
The Cataract Procedure
Surgery is the most effective treatment for cataracts. During laser cataract surgery, your cataract surgeon removes the cloudy lens. This lens is then replaced with an artificial lens, known as an IOL.Patients undergoing cataract surgery are given numbing medication, making the procedure pain free! Cataract surgery is performed one eye at a time.
Each eye takes about an hour to complete. At Georgia Eye Associates, patients who need cataract surgery on both eyes are scheduled separately.This is to ensure the first eye has plenty of time to heal. During laser cataract surgery, your cataract surgeon will use a laser to make a small cut in the front of the eye.
This will allow access for the surgeon to remove the cataract. Next, the patient will receive a new artificial lens. This IOL will replace the cloudy one and allow the patient to see.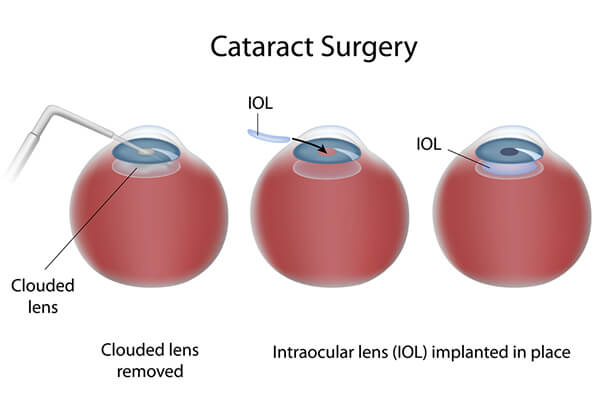 Cataract surgery is a quick and painless outpatient procedure that removes the cloudy lens and replaces it with a man-made synthetic lens, made of either acrylic or silicone. Approximately three million cataract surgeries are performed in the United States every year, making it the most common elective surgical procedure performed in this country. With more than a 97% success rate, it is also the most successful surgery.
What Kinds of IOL's are available?
There are a few different IOLs available for cataract patients. Depending on the patient, your cataract surgeon will assist in deciding which IOL is best. The most common is the Monofocal IOL.The monofocal IOL only focuses on one distance. It is also the only IOL that most insurances will cover. This is best for patients that solely need help seeing at one distance.
Another option is choosing a Multifocal or Accommodating IOL. These lenses allow the patient to see near, far, and intermediate distances. Because the patient will no longer need to rely on glasses or contacts, this is a premium lens. Premium lenses like the multifocal or accommodating IOL are not covered by insurance.
For patients with astigmatism, there is a Toric IOL. The toric IOL often gives astigmatic patients better vision than before cataracts! The toric IOL is also a premium lens that insurance companies won't cover. Premium IOLs are expensive, but they can be worth it for patients who don't want glasses.
What Happens After Cataract Surgery?
Click on the "Playlist" tab of the video below to select the video for Dr. Poland or Dr. Gillian, and find out what you can expect from your cataract procedure.
Recovery from cataract surgery is usually quick and painless. Patients are given a protective shield to wear over their eye for a few hours after the surgery. Your cataract surgeon will also provide sunglasses to wear on the ride home. It's natural for the eyes to be more sensitive to lights after cataract surgery. Adjusting to a new IOL may result in patients experiencing blurry vision. This is only temporary and usually goes away after a week or two. Most patients report clearer vision after just a few hours!
Besides sensitive eyes, patients may also complain of dry or scratchy eyes. Our patients throughout the Lawrenceville, Buckhead, Tucker & Braselton locations can expect to see full results within a month. Cataract surgery doesn't have to be scary! Here at Georgia Eye Associates, you'll receive only the best care. Schedule your cataract consultation at one of our convenient Atlanta area locations today!
---
Related Pages