Today there is a choice of what kind of lens a patient can have to replace the cataract lens. Premium implant lenses, or bifocal lens implants as they are sometimes called, are special implants that greatly reduce or eliminate the need for eyeglasses or contact lenses after cataract surgery.
There are three types of state-of-the-art lenses – the multifocal, the accommodating, and the toric intraocular lens (IOL). Premium lens implants work to focus light at multiple focus points, creating clear sight at the distance, intermediate, and near zones. If seeing clearly after cataract surgery without the dependency of glasses or contacts is of interest to you, consult with the doctors of Georgia Eye Associates and ask which lens is right for you.
Multifocal IOLs
The three brands of multifocal IOLs are Alcon IQ ReSTOR, and the Tecnis Multifocal. The accommodating lens is a monofocal lens that is moved by the eye muscle in response to the distance, intermediate or near vision zones. There is only one brand name of this type–the Crystalens by Bausch & Lomb. The Alcon Toric IOL corrects astigmatism, an irregularity of the cornea and/or lens that causes vision distortion. The Toric IOL will minimize the need for distance vision glasses after surgery.
AcrySof® IQ ReSTOR® IOL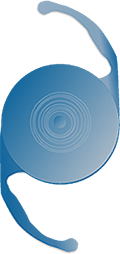 AcrySof® IQ ReSTOR® IOL is believed to be the most dynamic multifocal lens on the market. The ReSTOR IOL is a lens that treats both cataracts and presbyopia–an age-related condition that hampers people's ability to see or read near objects, forcing the need for reading glasses or bifocals.
Most AcrySof ReSTOR patients find they can read a book, work on the computer, drive a car–day or night, and play golf or tennis with an increased freedom from glasses. In clinical trials, four out of five patients who received this lens in both eyes reported never wearing glasses or bifocals following surgery. 95% of patients stated they would have this lens implanted again!
Click on the video below to get a better idea of how ReSTOR IOL can improve your vision.
Crystalens®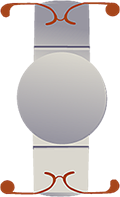 Crystalens® is an accommodating IOL that is designed to replace your eye's natural lens. It can be used both as the replacement lens in cataract surgery and for people who elect to replace their natural lens through the Presbyopic Refractive Lens Exchange procedure (learn more at our laser vision correction center).
The Crystalens accommodating IOL is designed to provide a continuous range of vision for distance, intermediate, near and everything in between, eliminating or reducing patients' dependence on reading glasses or bifocals. This is made possible by the IOL's unique hinged structure, which allows the optic, or the part of the IOL that you actually see through, to move back and forth as your eye constricts and relaxes.
TECNIS® Multifocal Lenses
TECNIS® Multifocal Lenses have been shown to provide excellent vision at any distance, far, midrange and up-close, in any light condition–even low light. This lens has been shown to reduce the need for reading glasses after cataract surgery.
The advanced TECNIS multifocal lens is an an implantable lens that restores vision after cataract surgery and corrects presbyopia (the need for reading glasses). It delivers results superior to those of a standard multifocal lens and offers an excellent chance to become spectacle independent.
Click the video below for more information.