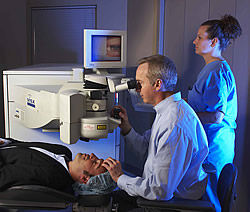 Get a $250 Discount per eye on LASIK!  Click here to learn more.
Deciding whether to have laser vision correction is a big decision…after all, this is your eyes we're talking about. So, let us help you out. Listed below are just a few of the reasons you should trust the physicians at Georgia Eye Associates to correct your vision and provide you the freedom to do the things you enjoy without the hassle of glasses or contact lenses. Still not sure? Find out what our LASIK patients have to say!
Trust
Unlike other LASIK practitioners, the friendly physicians at Georgia Eye Associates meet in person with each candidate to look you in the eyes and let you know everything is going to go great.
Confidence
The highly trained cornea specialists of Georgia Eye Associates have done over 10,000 vision correction procedures. Your vision is extremely important. Come gain the confidence you require with us.
Commitment
Georgia Eye Associates has been in business for over 25 years, and our physicians and staff are committed to the more than 80,000 patients that count on us to see clearly every day. We are in three convenient locations: Buckhead, Lawrenceville, and Tucker.
Care
Above and beyond our ophthalmic expertise, we care about our patients. This is an intangible you won't find at the cheaper "LASIK Factories" or the more expensive "Good Name, but Patient is a Number" providers. Come visit Georgia Eye Associates and find out why our patients are ecstatic about their results. Call us today at 770-995-5408 to schedule your FREE LASIK evaluation.