Home » Blog » Should I Get New Eyeglasses This Summer?
Should I Get New Eyeglasses This Summer?
Posted by: Georgia Eye Associates in General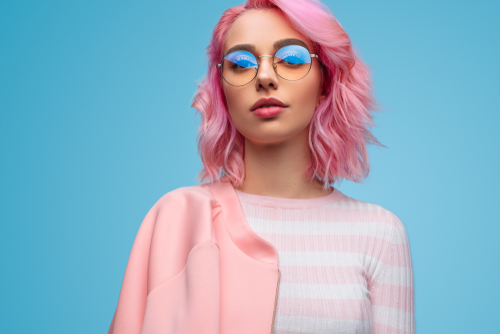 Getting new glasses can be fun, but it can also be challenging. If you find the prospect of upgrading your glasses to be an annoyance rather than an opportunity, don't worry, we're here to help you every step of the way.
Come into Georgia Eye Associates, where our friendly staff can help you! Keep reading to learn more about if it's time to get new glasses this summer!
How to Know it's Time to Move On to New Glasses
Our brains are capable of adapting to things, including vision as it gets worse slowly over time. It may be surprisingly difficult to realize that it's time to update your prescription or get new lenses. Observe yourself and try to take note if you are experiencing any of the following:
Frequent squinting. Squinting can help your eyes focus in a pinch, but it is no replacement for quality vision.
Headaches. Your brain's ability to adapt isn't free. To make up for poor vision, your brain will need to overexert itself. All that extra effort adds up, causing strain on your eyes and head.
You've used the same prescription for years. You should be getting a comprehensive eye exam every one to two years. This number will change if you're older or have preexisting risk factors. Our vision is prone to changes, so if you've had the same prescription for a while, odds are it isn't up to date.
Your glasses are scratched. Glasses are worn so close to our faces that it's not always obvious when they aren't clear. Check closely for scratches and cracks in your glasses, as they cause vision to become blurry.
Other Reasons New Glasses are Great
Sometimes your vision is fine and your glasses aren't damaged, but you still want a change of pace. That's okay!
Glasses are a great way to develop and express your own unique style and taste. You can use this preference to choose a set of frames that will match your face type. You can even get creative and choose funky frames!
People with square faces tend to go for round glasses, as they complement angular features.
People with round faces may want to choose angular frames to give the impression of length to their faces.
People with heart-shaped faces look best in thin, rounded glasses that balance the width of the face.
People with diamond-shaped faces are not as common and pair well with oval-shaped lenses that are rimless.
People with oval-shaped faces have the widest range of frames to choose from. But you may want to avoid narrow frames, as they can make your face seem longer.
Don't Forget That LASIK Is An Option
Wondering if there's something better than wearing glasses for the rest of your life? If you're a good candidate, you may want to consider LASIK as an option.
LASIK is a permanent procedure that can help you achieve visual freedom. That means no more glasses or contact lenses!
LASIK can help you reach a quality of vision you never thought possible.
Want to find out if visual freedom could be yours for the taking? Schedule a LASIK consultation at Georgia Eye Associates in Atlanta, GA now!
Tags:
Eye Doctor Atlanta
,
Eyeglasses Atlanta
,
Eyeglasses Buckhead
,
Georgia Eye Associates
,
Ophthalmologist Atlanta
---