Home » Blog » November is Diabetic Eye Disease Awareness Month
November is Diabetic Eye Disease Awareness Month
Posted by: Georgia Eye Associates in Uncategorized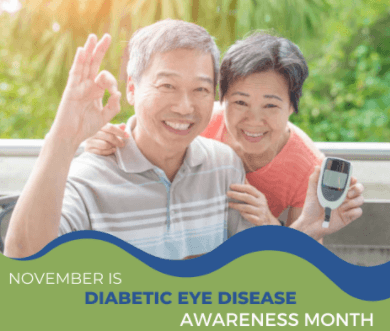 Diabetic eye disease is the leading cause of blindness that often has no early warning signs. However, early detection, timely treatment, and appropriate follow-up care are the only ways to help prevent vision loss. We want to share, empower, encourage and help spread the word about diabetic eye disease. According to the National Eye Institute, by 2030, an estimated 11 million people will have diabetic retinopathy.
What Is Diabetes?
Diabetes is a disease that affects the body's ability to produce or use insulin effectively to control blood sugar (glucose) levels. Too much glucose in the blood for a long time can cause damage in many parts of the body. According to the Centers for Disease Control and Prevention (CDC), over 34 million American adults live with diabetes, and around 88 million Americans live with prediabetes. However, nearly 85% are unaware.
If you are at risk for diabetes, you are also at risk for diabetes-related eye disease and vision loss, but a comprehensive eye exam can help catch any eye health issues. Around 20% of people first learn they have diabetes as a result of a comprehensive eye exam.
What Is Diabetic Eye Disease?
Diabetic eye disease is a term for many eye problems that can be a result of diabetes. Here is a list of diabetic eye diseases and diagrams of the eye from the American Academy of Ophthalmology to enhance your knowledge:
If You Have Diabetes, Keep Your Eye Health on TRACK.
Make YOUR eye health a priority during National Diabetes Month and Diabetic Eye Disease Month by taking steps to protect your vision. To prevent eye damage from diabetes, maintain good control of your blood sugar. If you have delayed scheduling your eye exam with your eye doctor, now is the perfect time to call and schedule TODAY! Also, please be sure never to skip any follow-up exams that your eye doctor recommends.
Our Top Priority Is Your Lifelong Eye Health!
References:
American Academy of Ophthalmology
National Eye Institute
Centers for Disease Control and Prevention. Diabetes Fast Facts, available at https://www.cdc.gov/diabetes/basics/quick-facts.html. Accessed June 23, 2020
Klunk, E. MedCity News. How to curb the high cost of diabetic eye disease, available at https://medcitynews.com/2020/01/how-to-curb-the-high-cost-of-diabetic-eye-disease/. Accessed June 23, 2020.The content is researched and vetted by the American Academy of Ophthalmology and the American Optometric Association. This blog provides information and discussion about eye health and related subjects. The content provided on this blog and any linked materials are not intended and should not be considered medical advice. If the reader or any other person has a medical concern, they should consult with an appropriately licensed physician.
---