Home » Blog » New Year, New Healthy Habits
New Year, New Healthy Habits
Posted by: Georgia Eye Associates in Uncategorized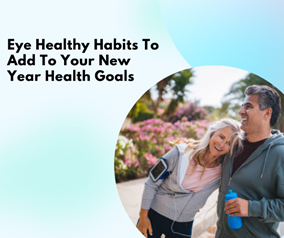 It is a New Year, and a new chance to grow wiser. Just as your body ages, so too will your eyesight begin to change as you grow older. Some changes are driven by heredity, and others are exacerbated by the elements of our environment.
Without healthy eyes, your quality of life would likely change dramatically. Here's the good news: developing these simple eye-healthy habits can help protect your eye health.
Wash Your Hands
Washing your hands for 20 seconds is not only a crucial habit to adopt for your overall but vital for your eye health. According to the Centers for Disease Control and Prevention (CDC), many common vision-related diseases can be spread by touching in or around the eye with an unwashed hand.
Bacterial and viral infections can cause long-term eyesight damage. To reduce your risk, develop a healthy hand washing routine. Also, never touch near your eyes for any reason if you have not just washed your hands.
Wear Eye Protection
It only takes one time not wearing protective glasses for something to become lodged in your eye. Wear eye protection around projectile-flinging equipment every time. Eye protection can also include wearing sunglasses with UVA and UVB protection.
Make Eye-Healthy Food Choices
A diet low in fat and rich in fruits, vegetables, and whole grains benefits the entire body, including the eyes. Studies show that foods rich in vitamins C and E, zinc, lutein, and zeaxanthin are good for eye health. These nutrients are linked to lower risk for age-related macular degeneration (AMD) and dry eye later in life. Eye-healthy food choices include citrus fruits, vegetable oils, nuts, whole grains, dark green leafy vegetables, and cold-water fish.
Exercise
Thirty minutes of exercise a day benefit one's heart, waistline, and energy level. Regular physical activity can also do the eyes a world of good! Many eye diseases are linked to other health problems, including high blood pressure, diabetes, and high cholesterol levels.
Quit Smoking
Avoiding smoking and second-hand smoke — or quitting, for current smokers — are some of the best investments everyone can make for long-term eye health. Smoking increases the risk for eye diseases like cataracts and age-related macular degeneration (AMD). Tobacco smoke, including second-hand smoke, also worsens dry eye.
Take Charge of Your Eye Health!
Don't skip your eye exam and schedule your eye exam TODAY! We are here to help our patients identify issues early and advise about lifestyle changes to keep their eyes healthy.
You only get one set of eyes, keep them healthy with these healthy habits.

---