Home » Blog » 3 Ways To Mentally Prepare Before Having LASIK
3 Ways To Mentally Prepare Before Having LASIK
Posted by: Georgia Eye Associates in LASIK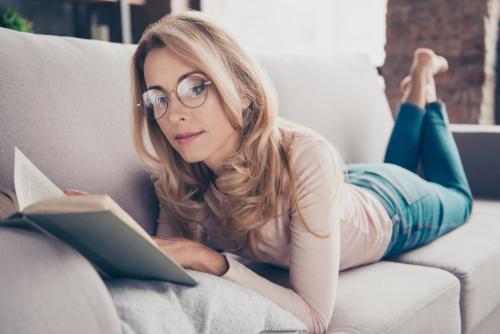 Are you ready to experience the visual freedom that only LASIK can give you? It's a decision that you will not regret.
Why not make a financial investment into your vision and your quality of life that continues to pay dividends for the rest of your life?
The benefits of LASIK are truly life-changing. You will need to recover after the procedure but it doesn't take long.
Keep reading for three ways to mentally prepare yourself before you have LASIK and change your life for the better!
1. Get Ready to Say Goodbye
LASIK surgery means saying goodbye. Don't fret, it's not to anyone or anything important.
It's saying goodbye to the quality of life you have endured for so long. It's saying goodbye to the way you look when you have to wear glasses, and the annoying feeling of a contact slipping out.
Having LASIK means you can finally say goodbye to glasses and contacts for good. No more fumbling for your glasses first thing when you wake up.
No more constantly wiping them clean. No more pushing them back up the bridge of your nose. You won't have to dread poking yourself in the eye each morning to put in your contacts.
You won't have to keep up with eye drops and contact solution and maintenance. LASIK provides you with clear vision without the hassle of visual aids holding you back.
2. Prepare for Visual Freedom
Before you go in for your LASIK procedure, get your head in line. That may be as simple as mentally preparing yourself to see clearly and doing things without worrying about how you'll see.
After you undergo LASIK surgery, you will no longer have to worry about glasses or contacts holding you back in any way! You will no longer need to think about what you will wear under your ski or swim goggles to see clearly.
Say adios to your glasses fogging up underneath a mask when you leave the house. LASIK will give you clear vision at any time of day, no matter what you're doing. Wouldn't you love to experience visual freedom for yourself?
3. Get Ready to Relax and Recover
Recovering after LASIK is all about taking it easy and relaxing. If you follow the instructions from your eye doctor, you'll be exactly where you should be.
After that, it's pretty simple and straightforward. Stay away from the weight room and let someone else do the heavy lifting around the house.
Focusing on small print and your computer screen will be difficult, at least on the first day of your recovery. Do your best to limit this until your vision stabilizes.
Your vision will be blurry so driving will be out of the question. Enjoy a relaxing LASIK recovery. You'll be back in the excitement and enjoyment of life in just 2 – 3 days, but this time with crystal clear vision.
LASIK Candidacy
You should know that not everyone is a candidate for LASIK. The procedure requires that your eyes be healthy and free from diseases.
Conditions like dry eye syndrome and glaucoma can rule out your candidacy. LASIK works because it reshapes your cornea, correcting any refractive errors. These include nearsightedness, farsightedness, and astigmatism.
To reshape your cornea, a small amount of tissue needs to be removed. Your corneas need to be thick enough to safely undergo LASIK.
LASIK Consultation
Ready to experience the freedom of clear vision? The first step is a LASIK consultation. Schedule yours today with Georgia Eye Associates in Atlanta, GA!
Tags:
LASIK
,
LASIK Atlanta
,
LASIK Buckhead
,
LASIK Eye Surgery Atlanta
---