Home » Blog » Prevention Tips for Eye Emergencies When Traveling
Prevention Tips for Eye Emergencies When Traveling
Posted by: Georgia Eye Associates in General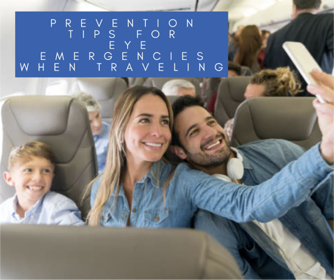 According to AAA, 39.2 million Americans will travel 50 miles or more from home this Memorial Day holiday weekend. This is an 8.3% increase over 2021 60% percent increase bringing travel volumes almost in line with those in 2017. If you and your family plan to travel this Memorial Day weekend, we wanted to give you a few tips to prepare if you have an eye emergency. Eye emergencies can happen anytime, but they can be alarming when away from home.
Follow these tips to protect your eyes, even while traveling.
Schedule An Eye Exam Before Leaving Town
Don't wait until you get back home to see your eye doctor. Ignoring or delaying vision changes just because it is not painful does not mean it is not severe. Award your trip with a healthy start!
Remember Your Eyes When Packing
Whether you wear contacts or glasses, always pack extras. An extra pair of glasses always come in handy if your eyes need a break from the contacts or if you break your glasses.
Prepare for Dry Eyes
Environment changes or traveling by plane can result in dry eyes. Bring over-the-counter drops to lubricate your eyes.
Stock Up On Prescription Drops
If you take prescription eye drops, be sure to bring an extra unopened bottle. Here is a great tip: Take a photo of your prescription on your smartphone! That way, if you lose your luggage, you'll be able to have the correct eye prescription that you need to have fun and enjoy your vacation.
Don't Leave Your Shades Behind
Sunglasses should be the number one item on your packing list. Your eyes need protection with sunglasses to block the harmful UVA and UVB rays.
When to Seek Eye Emergency Treatment
Eye emergencies requiring medical attention include cuts, scratches, objects in the eye, and blunt injuries to the eye or eyelid. If there is an eye emergency while you are traveling, it is vital to seek emergency treatment if any of the following symptoms appear:
Eye pain accompanied by redness
Nausea or headache with eye pain
Changes in vision such as blurring or double vision
Bleeding or other discharge
A scratch, cut, or penetration of the eyeball
Bon Voyage!
We want our patients to have all the knowledge they need to keep their eyes healthy this summer kick-off holiday and every day. Taking some time to plan to ensure your eye care needs are taken care of before embarking on your trip will allow you to have a worry-free vacation!
Whether traveling this Memorial Day or staying close to home, have fun and celebrate the holiday safely.
Remember and honor all of our troops.
---