Home » Blog » Don't Let An Eye Injury Take You Out Of The Game!
Don't Let An Eye Injury Take You Out Of The Game!
Posted by: Georgia Eye Associates in General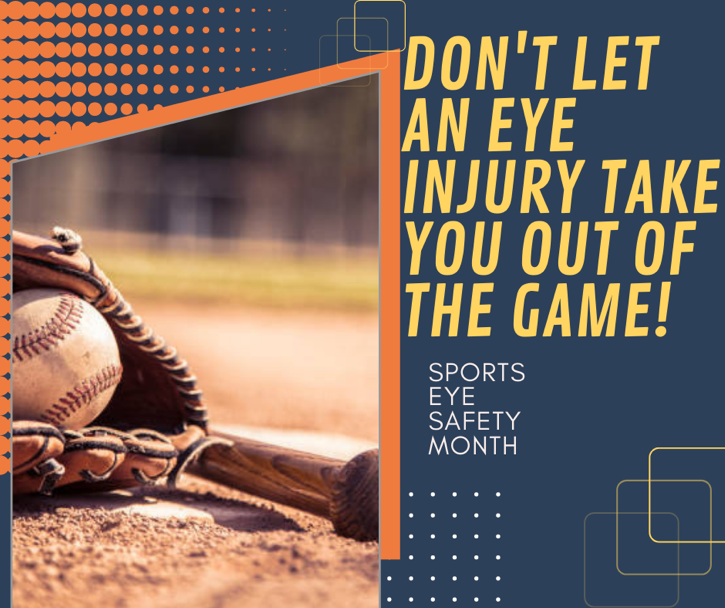 April is Sports Eye Safety Month, a reminder initiated by the American Academy of Ophthalmology (AAO) to raise awareness about preventing sports-related eye injuries. Nearly 30,000 sports-related eye injuries are treated in U.S. emergency rooms each year, and 90 percent of these eye injuries could be avoided by wearing protective eyewear.
Take Me Out To The Ball Game!
It's officially Springtime which is the time to gather the baseball gloves, bats, and helmets and head to the baseball diamond to play ball. Have you included your protective eyewear to add to your sports gear checklist? According to the National Eye Institute, baseball is the leading cause of sports eye injuries. Even reports of eye injuries in the major leagues are not immune to devasting effects of a flying baseball or bat.
It is false to think that wearing regular eyeglasses or sunglasses offers some protection from a baseball hit. The truth is that non-protective eyewear can shatter upon impact, causing more damage to your eye.
Before taking the field to play, take the proper steps to keep your eyes safe. Here are some safety tips from the American Academy of Ophthalmology that will help you keep an eye on the ball and eye safety first:
If you wear prescription glasses or contact lenses, ask your eye doctor about prescription protective sports eyewear. There are certified helmets with attached safety glasses for baseball batters and base runners; fielders can get certified protective eyewear.
Sports safety glasses must meet the American Society for Testing and Materials (ASTM) and American National Standards Institute (ANSI) safety standards. Eyewear designed to meet Occupational Safety and Health Administration (OSHA) industrial standards does not meet the safety standards for sports eye protection.
All prescription sports glasses should be made from polycarbonate material because it resists shattering and provides UV (ultraviolet light) protection. If the protective lenses have turned yellow over time, have them replaced, as the polycarbonate material may have weakened with age.
Sports goggles provide the best eye protection. However, they may not fit narrow faces well. In this case, the best option is certified sports glasses with 3-millimeter-thick polycarbonate lenses.
Any player who has vision loss in one eye should always wear eye-protective eyewear recommended by your doctor to protect their remaining vision.
Outdoor Activities and Eye Protection
If your athleticism tends less towards team sports and more towards outdoor adventures like hiking or mountain biking, UV protection is just as important as impact resistance. Make it a priority to find some good UV-blocking goggles and consider getting them with polarized lenses to reduce glare or tinted lenses that improve contrast and help you see better terrain changes.
We hope you all have a wonderful and safe time this season!

References: American Academy of Ophthalmology and American Optometric Association
Tags:
baseball
,
eye injury
,
protective eyewear
---