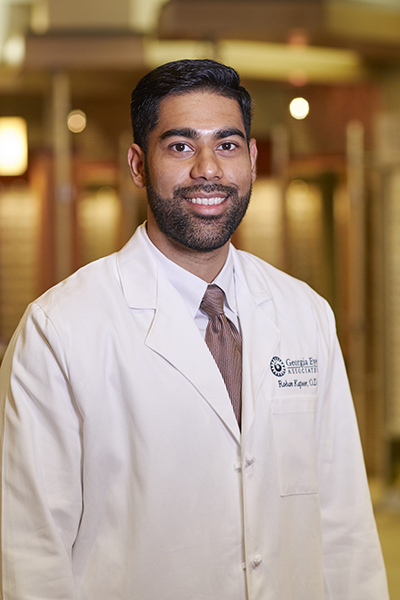 Optometrist Atlanta, GA
Dr. Rohan Kapoor is a native of Georgia, and grew up in Gwinnett County. Dr. Kapoor attended college at the University of Georgia where he graduated Cum Laude with a B.S. degree in Microbiology. He went on to earn his O.D. from the University of Alabama at Birmingham School of Optometry. Dr. Kapoor made Dean's List with Honors all semesters and was also a member of Beta Sigma Kappa Academic Honors Society while at UABSO.
After optometry school, Dr. Kapoor worked as an optometry student intern at the prestigious Foulkes Vision Institute in Chicago, Illinois. There, he assisted Dr. Richard Foulkes in laser refractive surgery. In this role, he became skilled with manipulation and analyzation of ophthalmic diagnostic equipment such as OCT, Humphrey Visual Field Analyzer, IOL Master, Ziemer Femto Laser, Corneal Topographer, and many others.
After completing his internship, Dr. Kapoor moved back to Atlanta to complete his Ocular Disease and Refractive Surgery residency with a specialty in Ocular Disease Treatment. Through this specialty training, Dr. Kapoor has developed great experience in assessing and treating patients with various ocular diseases, such as glaucoma, corneal dystrophies, and other retinal disease. During this training he also assisted in pre- and post-op care for refractive surgery patients. Dr. Kapoor gained his board certification in September 2018.
Prior to joining Georgia Eye Associates, Dr. Kapoor was an associate clinical optometrist at another local eye care practice in Buford, Georgia. Here he developed an expertise in primary care optometry, as well as fitting contact lenses.
Dr. Kapoor is fluent in English, Punjabi, and Hindi, and has studied numerous years of Spanish. In his spare time, he enjoys basketball, weight training, and volunteering in the community. He is a big fan of University of Georgia football and the Atlanta Falcons.