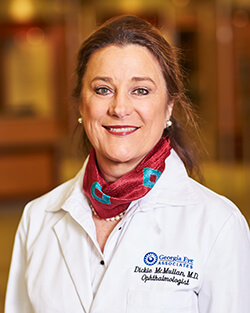 Ophthalmologist Atlanta, GA
As an Atlanta eye doctor and eye surgeon, Dr. Dickie McMullan offers 30 years of experience helping her patients improve their vision, at the same time decreasing their dependency on glasses and contact lenses. Combining procedures of LASIK, PRK, premium implant cataract surgery and lens implants for extreme nearsightedness (ICLs), she offers experience with the latest FDA-approved options for maximizing vision…and therefore the quality of life.
Following graduation in the first class of women at the University of Virginia, Dr. McMullan received her MD from the Medical College of Virginia. After her residency at Emory University, one of the top five ophthalmology programs in the country, she completed two post-doctorate fellowships: a cornea fellowship at Tufts New England Medical Center in Boston, and a Lens Implant/Laser Fellowship in Atlanta.
Dr. McMullan is board certified and a Fellow of the American Academy of Ophthalmology. She serves on the board of the Medical Association of Atlanta and is past president of the Atlanta Ophthalmology Society. She is also a proud member of the Piedmont Clinic.
Dr. McMullan has served as a surgeon for national LASIK centers as well as local referral centers. Her experience includes tens of thousands of refractive procedures including no-stitch cataract surgery, LASIK, PRK, ALK, corneal transplants, and implantation of premium lenses.
Dr. McMullan has balanced her clinical career serving as an international lecturer and residency instructor. She has participated in medical mission trips to Belize, Peru, Guatemala, Tanzania and Bhutan, and has worked at The Good Samaritan Center in Atlanta. She currently serves on the managing board of the University of Virginia Alumni Association. Dr. McMullan enjoys traveling, sailing and photography.
Locations: Buckhead and Tucker